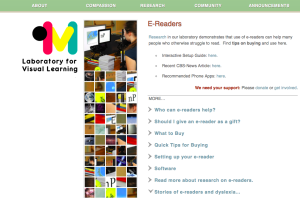 The Laboratory for Visual Learning is an organization started by Dr. Matthew Schneps and others to investigate dyslexia, ADHD, autism and other neurological disorders.
I wrote about Dr. Schneps (who is dyslexic) recently in my article, first published on Medium, How iPhone Unlocked My Dyslexia.
You can find more about Dr. Schneps and his experience on YouTube or his site linked to below.
My article is now featured on the Lab for Visual Learning website here, or just go to the site and under the "Compassion" heading scroll down to "Stories of e-readers and dyslexia…"
Enjoy!